Should a nightlife photographer watermark photos?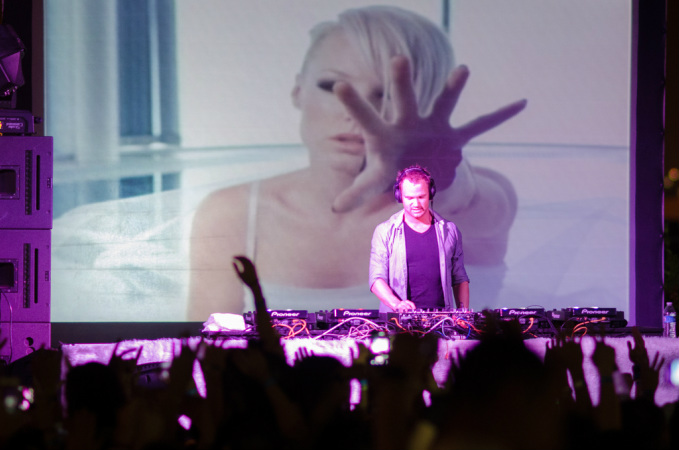 I decided to wait a few weeks before writing about this so that I could really absorb the idea that this happened. Its not a huge feat I guess, but I suppose it gives one bragging rights when one
Top 100 DJ's
in the world uses your
photo
to thank his fans for viewing his
"Waiting" video on YouTube
16 Million times. I like this song.
That being said... their is a slight frustration that comes along with this. In order to talk about this, we have to start at the beginning.
The show was put on on by a group of promoters, namely, Odin Works, Livewire
,
AROH
,
Pure Coalition
and
The Artist Movement.
This was my first show shooting with multiple promoters. At this point, I had only worked out how I would watermark my photos with Photocyclone's logo along with only one promoters logo, but five logos is an entirely different setup. I admit my mistake... I could have done much better if I had just stopped and thought about it.
The second thing, that frustrates me about the sharing of this photo, is that when I posted the set to the Odin Works page, I cropped it. Since the, I have learned that its ALWAYS better to crop in the lens, then in post.
Now before I get to the last thing, the reader should note that this event was held back in October 2012, it wasn't til April
13th 2013 that the photo was downloaded from
Dash Berlin's website
. The photo at this point still had the watermarks, however, they were then cropped out and re-uploaded by
TransFamily IR
. The watermarks are atrocious to the composition of the photo, and has made me rethink the whole ideas of watermarks in the first place.
This is an example of how not to watermark.
Now at this point, I had no idea that photo was re-uploaded to Facebook until April 17th. That's when Dash Berlin shared my photo to 1.2 million of his Facebook fans. ...now that's pretty freaking awesome right? It is but, I am still uncredited at this point, and that brings me to my final concern.
I needed to make sure that I got photo credit.
So being that the photo was originally uploaded by
TransFamily IR
, I contacted them via Facebook asking them to tag me in the post. They apologized, almost instantly and they tagged Photocyclone in the photo. A small conversation sprouted out that initial contact and it turns out the they are AWESOME people.
Now, because it was credited on TransFamily IR's page, it also was credited on Dash Berlins page as well. Keep in mind this all happened in a matter of a few hours. This however is not the end of the story, in fact, I'm not sure if this story will ever end, because I've learned something here... something important.
I learned that cropping my photos is almost never good, and after today, I will no longer watermark my photos with anyone's logo except my own. That's a pretty bold step, but I think it will make the photos look better, and that is the most important thing to me.
By the way, this event was awesome! Thank you to the promoters who put in the hard work to make it happen!
Tell me what you think of watermarking by leaving by clicking the Facebook button below.