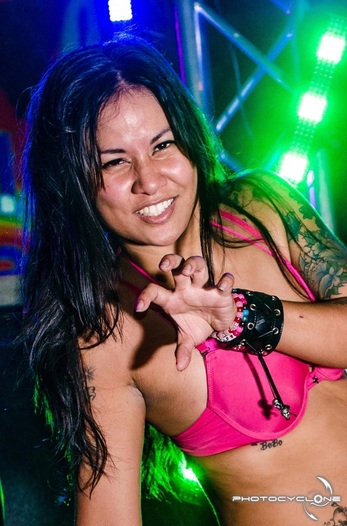 This is
Sarah
, and it goes with out saying she is probably one of the nicest people I have encountered in my experience with night life over the course of the past year. She is a go-go dancer, and a very good one at that.
Recently, she recently posted on her Facebook, about how she is frustrated about
people wanting her to work for free.
There is no doubt that if you have worked anywhere in nightlife you will encounter this issue. Its a tough subject because nobody likes to talk compensation with people they have become friends with.
I love photography... a lot, and when I first started, I did a lot of free work, but I sucked at it. My first paid gig was the Black Friday events by Kelli Bullock and Scott MacGowan. It was the first time I felt like I was worth anything as a photographer, and it had a huge impact on the rest of my year. I had received a lot of compliments after that set.
Other promoters such as
Odin Works
and
Nephilim Halls
began to notice my work and hired me for their events on a consistent basis. It's interesting to note that the behind
Black Friday
,
Odin Works
and
Nephilim Halls
, are all great photographers themselves.
So why did other photographers hire me for their events when they all have cameras themselves?
I have never really asked them this question directly, but I think its because I offer something unique. They understand the impact of quality content being posted to their Facebook or their website. There is a lot of competition out there in Chinatown.
Many people aren't aware of the costs a photographer has when doing a shoot.
Colors in low light comes at a HUGE cost. My trusty Nikon 24mm 1.4 is my signature, it allows me to shoot at low light and grab the colors of the room while still giving the photo a nightlife feeling. That's an expensive lens. I bought it knowing that when I master it, it will make my photos unique and colorful, and it has.
They also know that people now EXPECT good photos from their events. In turn, it draws those patrons to the promoters page where the photos are posted, creating traffic so that others will notice future events. Cameron Peppers is very savy with this, he sometimes slips pictures of his flyers into a photo set that I posted on his page. He knows that an easy 4000+ people will browse through that photo set on Facebook and will be forced to see his flyer.
Lotus Downtown
, on the other hand, has taken a rather unique approach by having the photos displayed on their TV's above the bar! I love this!
Have you ever heard this? "Hey come to my event and shoot a set, and I'll get you in in at the door." If people are asking you to show up to their event and work it, it usually means that you have a commodity that they wish to add to their night, whether its photography or in Sarah's case, go-go dancing. I mean, there are all sort of things that going to making an event awesome besides photographers and go-go dancers, like DJ's, Fire Dancers, VJ's... the list can go on and it does.
So... what should you say to those that approach you to work for free? The response is very simple:
"Would YOU work for free?"
If the answer is no, then they should think about hiring you. If the answer is yes, then you probably shouldn't work for them anyways. There are always alternative payments besides money that may work best for you and your client.
Don't get me wrong, I love photography, and I love taking photos of all the patrons and night lifers out there. With out you guys, their would be no photos!
And I am always happy to snap a photo of anyone who asks me if I have my camera on me... after all, I wouldn't be doing it if I didn't love it.
I'll see you guys tomorrow night at The Gibson Ball. I will be dressed as a Daily Planet photographer... of course.