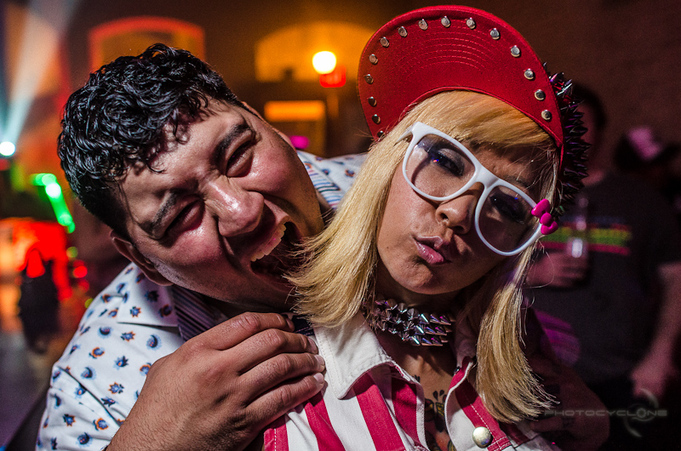 Lorenzo Eduardo Taylor and Barbie Skunk at Lotus Downtown
It still remains my biggest fear about photography. Do I have permission to photograph you? The answer is an easy yes, I do. That doesn't mean I should.

From time to time I encounter people who don't want their photo taken. Shit, before I got into nightlife, I NEVER wanted my photo taken. On many occasions, I have denied photographers from taking my photo, for whatever reason. Mainly because I didn't want to be plastered on Honolulu Pulse, or Nonstop Honolulu. It's completely understandable and not uncommon at all. I encounter this about twice a night, and even then, their are some shoots where I can photograph anything but they will be filtered by another photographer to post else where. All of this sits okay with me, because I just like taking good pictures. If a person doesn't want to be in a picture, then it doesn't make for a really good shot unless its a candid.

So we raise another point.... candid portraits. Its an important type of shot in any set, because the photographer is able to capture that very moment. No posing, no making sure the hair is okay, its how the event unfolded.

All of this leads to ethics. Is it okay for a photographer to take a photo of someone with out them knowing? The answer in short is yes, but then you have to show them the shot. In most cases, they are surprised, and enthusiastic about the photo, but sometimes they immediately request me to delete it. Both is okay. I have never experienced anyone getting pissed about me taking a candid shot... they understand what I was trying to do. When I delete, I show them the notification I get when a photo has been deleted.

As a nightlife photographer, it is very beneficial to know the crowd, and for them to get to know you. In my experience, the more comfortable they are with you and your big ass lens, the better shots you will get. They will feel confident that the photos of them will turn out great.